Since 2008, the Minerva Fellows Program at Union College in Schenectady has been an integral part of the success of The Global Child. The purpose of this program is to instill in recent graduates of Union College an entrepreneurial approach to addressing social problems and a lasting commitment to the poor in developing countries. Without the help of the Minerva Fellows, The Global Child would not be where it is today. We thank each and every one of the Fellows for their dedication and for being part of The Global Child family!
2019-2020 Minerva Fellows
Dalila graduated from Union College in June 2019 with a degree in Sociology and Psychology. She is from West Orange, NJ and was very involved in leadership and diversity initiatives on Union's campus. She loves to work with children, and promote women's empowerment in her community, and with the women around her. In her free time, she plays violin, loves to travel, and LOVES trivia! She potentially wants to work in education reform or as an education administrator, and believes The Global Child will help her in her pursuit of this! She is so excited to meet the kids and faculty at The Global Child, and cannot wait to find a new home in Siem Reap!
Yesenia Negron graduated from Union College with a Bachelor's of Science in Psychology with a minor in Gender, Sexuality and Women's Studies. She is from New York City, US. Yesenia is the current President of the Gamma Chapter of Omega Phi Beta Sorority, Incorporated where she has learned to build her leadership and professional skills. She is a part of the Women's Rugby team in Union College and works in the Schenectady community at a middle school as a Site Assistant. Yesenia has had the privilege to accept the Minerva Fellowship to work with the students of The Global Child in Seim Reap, Cambodia and she is extremely excited! Yesenia wishes to bond with the students in order to learn more about the Khmer culture, to potentially teach dance and to impact a child's life even in the slightest way as she understands that this is the start of a life-changing journey for her.
2018-2019 Minerva Fellows
Emma graduated from Union College in 2018 with a degree in Political Science. She is from Boston, MA and ran on the track and cross-country teams while at Union. Her interests include traveling to new places, running, and doing yoga. Emma is excited to be a Fellow at TGC because it gives her the opportunity to create relationships with students where she can help them develop new skills and they can share their knowledge with her as well.
Isabelle graduated from Union College in 2018 with a degree in Geology. She is from Saratoga Springs, New York and during her time at Union College, she spent her winters teaching skiing and her summers guiding backpacking trips. Isabelle loves teaching and working with kids and is extremely grateful for her time at The Global Child. Upon finishing her time at The Global Child, Isabelle has accepted a position as the trek and program director of an outdoor education and high adventure base in the Adirondack Mountains of New York.
Luke is a recent graduate of Union College who majored in Biomedical Engineering and minored in Electrical Engineering. He is from Baldwinsville, NY and his interests include traveling the world, playing sports, and all outdoor activities like hiking, swimming, skiing, etc. He is passionate about improving the lives of others by advancing healthcare and medicine. Luke loves working with kids and is extremely excited to join the team at The Global Child to make a lasting impact on the children's lives and the organization itself. He cannot wait to share his happiness and laughter with everyone.
2017-2018 Minerva Fellows
Daniel graduated with a double major in Managerial Economics and Psychology from Union College. He is an avid drummer and spends much of his free time drawing and creating digital art. When Dan is not creating, he can usually be found reading a book about the brain, business, or often times both! While at The Global Child, Daniel used his creative abilities to establish a digital art program for the students and staff. He also managed a logo-mural project to spruce up the downstairs of Joe to Go.
Sydney grew up on a horse farm in northern New Jersey. She graduated from Union College in 2017 with degrees in Neuroscience and Sociology. A lover of all things living, you can usually find her under a tree admiring the natural splendor of Vermont, on the back of a horse, or appreciating quality time with loved ones. Sydney aspires to be an avid traveler, a committed minimalist and environmentalist, and a purveyor of goodness wherever life takes her. While at The Global Child, Sydney helped create an environmental club for the students and staff.
2016-2017 Minerva Fellows
Allison grew up in a small town near Buffalo, NY called Lockport. She graduated from Union College in 2016 with a Bachelor of Arts in Studio Fine Arts and was very excited and grateful to have received the opportunity to work with TGC for nine months after college through the Minerva Fellowship. While at TGC, Allison taught English speaking, listening, and reading and led photography workshops for the students, ending with a photography project and art show. Along with her fellowship partner Emily, she also led gender equality and female empowerment workshops and hosted a variety of Saturday and holiday activities. Allison's time at TGC will always hold a special place in her heart and she misses everyone there so dearly! Now, she is attending MCPHS University in Worcester, MA as a Bachelor of Science in Nursing candidate. Allison has hopes of traveling and practicing as a registered nurse after her program ends in May 2019!
Emily is currently a Research Associate at the National Endowment for Democracy, where she provides research, editorial, and outreach assistance to democracy and human rights advocates, scholars, and journalists from around the world. Prior to joining NED, she worked at the Alliance for Peacebuilding, first as a Herbert Scoville Jr. Peace Fellow and later as a Research Associate. As a Scoville Fellow, she helped with research and advocacy on women, peace, and security, countering violent extremism, and the evaluation of peacebuilding programs. In her role as a Research Associate, she helped identify and analyze peacebuilding program evaluations to build a database of core peacebuilding outcome indicators. While a Minerva Fellow, Emily and her Fellowship partner, Allison, created and implemented monthly gender equality workshops, ran a fundraising campaign to restart the parenting program in partnership with the Women's Resource Center of Siem Reap, and continued the legacy of teaching "hot yoga" to Mom Lim, Mom Pov, and interested students. Emily thinks of her time at TGC fondly and often and is proud to be a part of the TGC family!
2015-2016 Minerva Fellows
Maggie grew up I am a small town in Morris County, NJ. As a senior in high school touring Union College, she learned about the Minerva Fellowship and knew it was something she would love to have the opportunity to pursue. Four years later with a Bachelor's degree in Anthropology and a minor in economics, her dream came true as Maggie was selected to teach at the Global Child School in Siem Reap as a Minerva Fellow in 2015-2016. During her life-changing nine months in Siem Reap, among many lessons, Maggie learned that the best gift you can give someone, young or old, rich or poor, is your time and love. She carries that lesson with her in every interaction she has today as she pursues her career in Boston. Maggie works in a Talent Development organization at Dell Technologies and continues to find ways to teach and give back to the community. The fall of 2018 Maggie had the tremendous opportunity to teach a class of inner-city 5th graders once a week. The mission of the NGO she volunteered with was to provide supplemental education to underprivileged children throughout big cities in the US, teaching students critical 21st-century skills. Opportunities like these allow Maggie to reflect on her joyous time in Cambodia and remember the tenacious students, faculty, and staff at TGC.
2014-2015 Minerva Fellows
Originally from the greater Boston area, Miriam (who goes by Mimi) studied English Literature and English Fine Arts at Union before heading to Siem Reap as a Minerva Fellow 2014. Her time in Cambodia was transformative and she carries the experience, as well as the hard-working, brilliant students of TGC, in her heart with her wherever she goes. In addition to teaching English reading, speaking and listening at the school, Miriam worked very closely with TGC's social entrepreneurial venture, Joe To Go, where she tutored the staff and helped with branding for the restaurant, including organizing a showing and opening night of a local artist on the second floor gallery and painting some murals and quotes on the walls downstairs. Other initiatives while at TGC include organizing dance classes for the students as well as pen pal letter friendships with her mother's students at a private school back in Boston. Miriam currently works in Marketing as Copywriter and Content Creator for the educational travel company, EF Education First, in Cambridge, MA. She credits her time in Cambodia as the catalyst for her love of cultural exchange and the power of travel immersion and is proud to continue to foster those values in young people across the globe.
2013-2014 Minerva Fellows
Ariel grew up in Connecticut and studied Psychology, Religious Studies, and Dance at Union College. As part of the Minerva Fellowship at The Global Child in Siem Reap, Cambodia in 2013-2014, she made strong connections with the students and staff that have persisted throughout her life post-fellowship. In addition to teaching English and being an active member of the Joe-to-Go social entrepreneurship venture, Ariel's accomplishments at TGC include her development of a dance curriculum and a mental health curriculum. The dance program incorporated both Ariel's and the students' passion for dance and enabled the students to use movement to cope with stress. Through the dance program, the students learned about the history and culture behind each movement and participated in a fundraiser in which the students exhibited profound growth in expression and comfort in front of an audience. The mental health program included lessons on resisting peer pressure, time-management, and anti-bullying. Ariel successfully defended her Ph.D. dissertation in School Psychology at Fordham University. Her experience at TGC continues to motivate her to build connections with children and their families and advocate for equal opportunities in education.
2012-2013 Minerva Fellows
Amanda graduated from Union College in 2012 with a BA in Sociology. In July 2012, she moved to Siem Reap to volunteer at The Global Child. During her time at TGC in 2012-2013, Amanda taught English, Art, Health, and Dance (while TGC students taught her invaluable lessons about life). She also raised nearly $4,000 to start an emergency medical fund for the school. Following her move back to the states, Amanda worked on programs and events in New York City at a tech diversity non-profit, All Star Code. She is now living in Houston TX and working as a Human Capital Consultant with Deloitte Consulting.
2011-2012 Minerva Fellows
Carolyn grew up in Chappaqua, NY and graduated from Union in 2011 with a degree in Anthropology and Studio Art. With an immigrant father from Romania, she grew up traveling the world, aware of the disparities outside of her NY upbringing. Her year in Siem Reap is transformative to this day. Settling into life in a classroom with her class of 9 girls, learning the cultural norms of a Khmer workplace, getting acquainted with the ex-pat community, and understanding the impact of history and current effects of tourism and aid work on the young generation of Khmer people was an unforgettable experience. Carolyn taught English, art, singing, and soccer to the kids at TGC and facilitated repainting the classrooms. Since her return in 2012, Carolyn has lived in Brooklyn working in marketing and design, and runs a website, interviewing small business owners related to travel and social enterprise and has most recently taken a year sabbatical to travel.
2010-2011 Minerva Fellows
Kate worked at the Global Child from 2010 – 2011 as a Minerva Fellow after graduating from Union College. At the Global Child, Kate taught English, art, soccer and the occasional science class! She loved every minute of it. Since returning from Cambodia, Kate moved to New York where she worked at a social change communications firm. In 2016 she attended Yale School of Management and graduated in 2018 with her MBA. She now works as a consultant at IBM and her office just happens to sit on top of a Cambodian sandwich shop which she frequently visits (though it's not as good as the real thing!).
Elizabeth grew up in Hanover, Massachusetts and attended Union College for her undergraduate degree in Neuroscience. Upon graduation, she was honored to receive the Minerva Fellowship and spent 9 months volunteering at TGC. These 9 months were truly some of the most meaningful of her life, and the students and teachers that she spent them with still hold such a special place in her heart. At TGC Elizabeth taught English, math, and science. She was also thrilled to be able to share her love for the arts with the students and taught piano and art classes. Her co-fellow Kate Murphy and herself also organized the first student council at TGC. Since leaving Cambodia, she graduated from George Washington University's Physician Assistant Program. She currently now works as an Oncology PA at Dana Farber Cancer Institute in Boston, MA. She is passionate about her job caring for others. The Global Child family continues to, and always will hold a very special place in her heart.
2009-2010 Minerva Fellows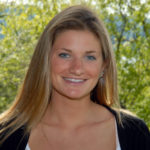 Lyndsay taught at TGC and helped open "Joe to Cafe and Boutique" in Siem Reap, Cambodia with fellow Nate Saslow in 2009-2010. Since returning from her Fellowship, Lyndsay has been living in Boston, MA and working at PwC. She is currently a Manager in PwC's Risk Assurance practice focusing on the financial services industry, specializing in ESG (Environmental, Social, and Governance). She married her best friend and now husband, Patrick, at the New England Aquarium in June 2018. She is actively involved with her community as a tutor in Boston public schools and is the Recruitment and Engagement Committee Lead for the Crohn's & Colitis Foundation YP committee. She wanted to make a special note that she would not be who she is today without the Fellowship program, thanks to mentors and some of the greatest humans ever.
2008-2009 Minerva Fellows
Jon was a member of the inaugural class of Minerva Fellows in 2008. He graduated from Union College in 2008 and Cornell in 2013. He is originally from Rochester, NY. Following the fellowship, Jon continued his work with TGC as project coordinator from 2009-2011 where he helped to recruit the first two classes of students in the Siem Reap location. During his time, he helped work with the next two classes of fellows and numerous volunteers. He currently works in as a Data Science Consultant at FI Consulting, Inc.